Nov 02
Grade A Goat Hair Make-up Brush vs. Tafre Taiki Fibre
In this demonstration we will see the comparison of Grade A goat hair as compared to the Tafre Taiki Fibre.
Traditionally, make-up brushes from luxury brands such as Chanel, Dior & Sephora use high quality goat hair to develop premium make-up brushes. These make-up brushes are best known for smooth application.
Unfortunately for those luxury brands, there is a decreasing supply of goat hair – not to mention that there are often quality & consistency difficulties with animal hair. In addition, consumer demand is leaning towards more synthetic materials – Approx. 67% of US consumers think all brushes are made from synthetic filaments AND 90% would never consider a brush made from animal hair… if they knew, that is.
In order to create a fibre that matched the highest quality animal hair using synthetic fibre, Taiki used squirrel hair as a benchmark –historically, squirrel hair is the most exotic and most luxurious animal hair.
Tafre Taiki Fibre is an animal free, sustainable brush fibre that uses patented technology to create a fibre that outperforms animal hair while still providing flawless application for powder and liquid make-up.
Synthetic Make-up Brush vs. Tafre Taiki Fibre
In this demonstration we will see the comparison of typical synthetic brush as compared to the Tafre Taiki Fibre.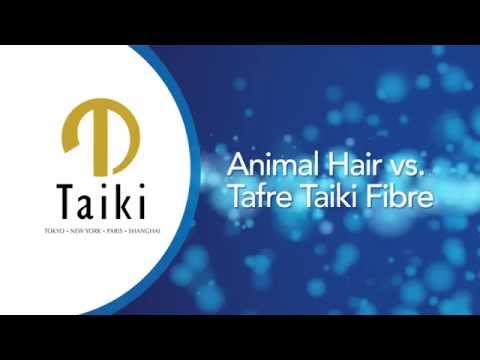 Synthetic make-up brushes are soft & silky but because they are not textured, they are not a great tool for powder application— If you've ever used a synthetic brush to apply your powder make-up then you've undoubtedly noticed that either the powder doesn't stick to the brush or the pay-off is inconsistent.
In order to get a great powder application, many brands have historically used goat hair – which is known to be soft, smooth, yet complete with a natural texture to pick up make-up powder.
Tafre –Taiki Fibre was created to be as luxurious as natural hair but animal free and sustainable. To achieve our goal, Taiki used exotic squirrel hair as a target to create a soft brush using synthetic fibre.
Tafre's proven technology creates a fibre that outperforms any synthetic hair. Tafre uses multiple patented technologies to create a cuticle-like fibre which allows for greater pick up and pay off – overall, the consumer gets a superior application!
---